There are so many postage options for your marketing materials that things can quickly become overwhelming. If you don't understand the process it's easy to get it wrong, or to pay over the odds – which is why using a mail provider or postage expert can save you money (and headaches) in the long run.
But what's the right postage option for your business? Do you need door drops, or partially addressed mail? And what types of postage are actually out there?
Sit back as we take you on a whistle-stop tour of everything you need to know about postage for your mail marketing campaigns. And why consolidating to a single supplier makes sound business sense.
Your postage options
Postage is often the largest cost in a mailing project, so let's run through some of your options:
Downstream Access: This is where a postal provider collects the mail from us, and feeds it back into Royal Mail's postal system further along the postal journey. It can be a more cost-effective option than sending directly through Royal Mail, and takes around 2-3 days (the same as Royal Mail's second class service) – which is great when you're not in a hurry.
Partially addressed mail: This service from Royal Mail is for businesses that want to prospect new customers in the wake of GDPR. A middle ground between door drops and fully addressed mail, it enables targeted mailings without the use of personal data. As holders of the GDPR Management Standard from QG, our work goes above and beyond the demands of GDPR – so you can be confident in our legislative know-how.
Advertising Mail: Depending on size and volume, you could qualify for discounts when sending out addressed advertising mail (also known as direct mail). Bulk mail can seriously cut down your postage costs per item – allowing you to advertise far and wide.
International Mail: If you're directing your marketing messaging abroad, you could really benefit from KPM's access to the most competitive international postage rates. If it's peace of mind you want, parcels can be tracked or signed for; or there's a budget-friendly option for less valuable mail. There's even an international courier service to ensure the fastest delivery possible.
MailMark: This is a 2D barcode that's printed onto the envelope of your mail – making it fully trackable and increasing the efficiency of the postal journey. MailMark also offers the lowest tariffs – which is great news for your budget!
Mailsort: If you're looking for big postal discounts, Mailsort is a great option. The process allows us to pre-sort all of your mail before collection by Royal Mail, and to see if you're eligible for any further discounts.
Business mail: With flexible options for different ways to prepare and present your mail, business mail gives the professional touch. There are also discounts available based on quantity, address accuracy and sorting (all of which we can help you with).
Subscription & Publishing mail: Specially designed for publishers, this is a cost-effective way to send your editorial titles, with a range of options and a choice of delivery services. If you meet the requirements (1,000 titles sent twice per year of more) options include fixed pricing for 12 months, with free collection of sorted items and free returns.
Sustainable mail: We can advise you on the most environmentally-friendly paper and procedures – which is just what you'd expect from an ISO 14001 Environmental Management accredited provider.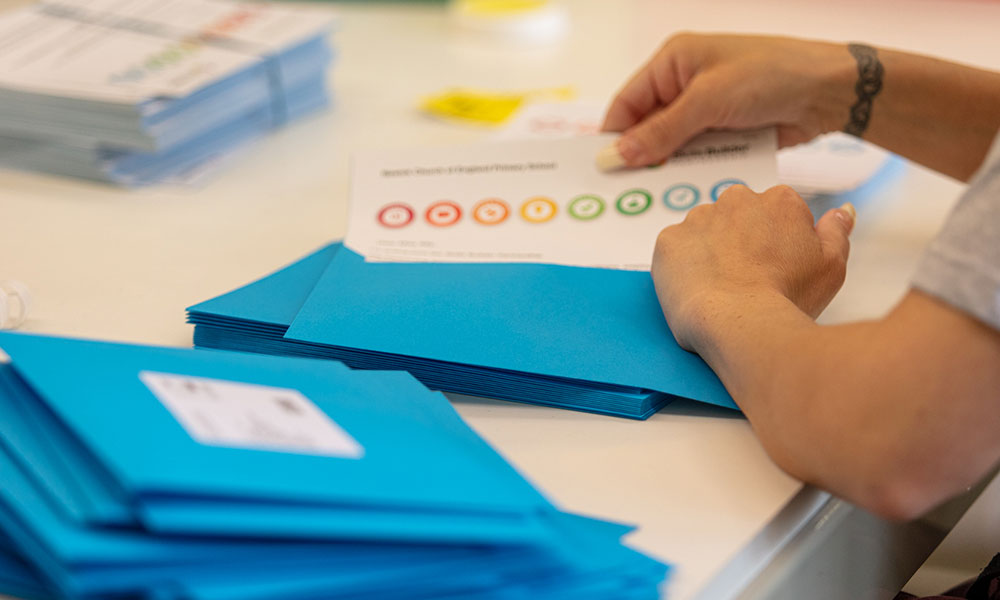 Print and postal marketing: why it pays to consolidate
Partnering with a postal provider can be incredibly cost-effective, but it's not just down to rates. We work with all of the leading postal carriers, so of course, we secure the best possible postage rates for you – but it's about so much more.
Optimising postal rates is about looking at the different elements of your campaign, and that's where we can really add value. From data to artwork to print materials, everything has the potential to impact your postage costs. For example:
Design: We look at how easily the design can be read by machine readers
Paper stock: We'll assess whether this can be altered to gain environmental discounts
Size and format: We ensure that your mail is sized to fit the most cost-effective pricing categories
Data: Our data service makes sure that your data is as clean as possible, so you don't waste budget on incorrect addresses.
When we're in charge of your printing, we get to know your campaign and objectives extremely well. This allows us to make the best recommendations for your business, and to find the most competitive discounts for your budget.
From data cleansing and design to production and fulfilment, consolidating services to a single supplier can make your mail marketing campaigns more efficient, less stressful, and better for your budget.
To find out more about your postage options and how KPM can help, get in touch today.
Ask about our FREE Data Health Check to give you an insight into the effectiveness, quality and health of your data – complete with recommendations for improvements and suggested next steps.