And do I need it for my campaigns?!
As a marketer you will have lovingly developed your campaign, chosen your timing and targeted your customer with messaging they cannot resist; now all you need is your pick and pack fulfilment to go smoothly.
The term 'Pick and Pack' refers to the part of the supply chain process whereby products are taken from a warehouse shelf, packed and boxed with a packing slip, invoice, flyer or other advertising material, and delivered. It's an essential part of the success of any campaign where items need to be delivered to the correct recipient, on time and safely.
Simple then! A process you may even feel you can do yourself, but it can be complicated depending on your industry and products. It's also time-consuming, costly, and open to issues that can harm customer relations.
What issues impact Pick and Pack Fulfilment?
A campaign will fail if the right pieces in the right shape don't go where they're meant to. Like a puzzle, the whole thing needs to fit together to be successful and for order fulfilment and customer satisfaction to be achieved.
Issues in the pick and pack process can easily arise due to the number of variables. These include:
Choosing the wrong packaging which can result in products being damaged in transportation
Including the wrong items in different colours or sizes
Omitting items in a multi-piece order
Not enough warehouse space to store goods
Too few employees to fulfill orders on time
Smaller businesses are especially impacted affecting delivery times, customer satisfaction and company reputation.
How can you avoid these?
The best way is to use a professional fulfilment company to do the job. KPM is a single-source provider offering a streamlined service with everything you need under one roof. We focus on making sure the right products get to the right people on time through attention to detail during all stages of the pick and pack process.
A fulfilment company can take the worry off your shoulders, providing a professional, quality service and giving you the benefit of their knowledge and expertise in pick and pack methods and strategies. They consolidate all aspects of the process optimising efficiency and cost-effectiveness.
When a customer places an order online it's transmitted to the fulfilment company. Fulfilment companies process the receipt, picking, packing, and delivery of customer orders. These four stages need a high degree of coordination, efficiency, and organisation to run smoothly.
When we receive the order at KPM we generate a packing slip. One of our employees picks the items on the slip and takes them to the packing station where they are packed, sealed securely, and labelled for delivery. Packages are then sorted and loaded onto carriers for delivery.
Skilled pickers ensure accurate picking eliminating issues like inclusion of wrong or missing items which are disappointing for the customer. They handle products carefully, ensure they are in good condition, pack securely and label clearly. Their expertise means they cope with busy periods efficiently impacting customer satisfaction.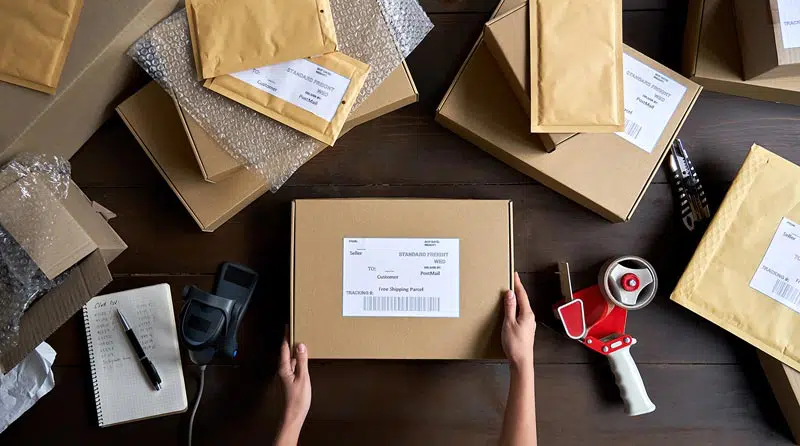 Let KPM do the hard work for you
Here at KPM, we offer an end-to-end service from planning your campaign to distribution. Our service is bespoke according to your products and requirements.
We have 22,000 square feet of storage at our secure site in Kent, so all your products are under one roof and not under your feet, a good option if you're working from home! Having products altogether makes it easy for businesses to offer a variety of items to customers and this often benefits sales. It also mitigates the need for items to be collected from different places incurring costs and the potential for damage. Products can be called off, as and when according to your timescales.
Our knowledge and understanding of the UK and International postage systems enables us to provide you with first-class advice on distribution optimising your campaign and reaching more customers.
Let our expert team take care of your order fulfilment while you focus on your business. We'll provide you with a streamlined, faster, cost-effective, worry-free, high-quality pick and pack service.
Book a Free Postage Audit
Postage can account for about half the cost of a typical mailing campaign, so it's important to analyse your mailing costs regularly. Are you are getting the best postage rates and delivery times?
Understand your options
Gain insight into small changes that could make a big difference to your budget
Review recommendations for improvement and next steps
CONTACT US to book your free postage audit today!